In mid-2012 I wrote my first piece of fiction. A contest was held by the Paris Review: they were giving away a bicycle to the author of the best under-300-word short story about this picture: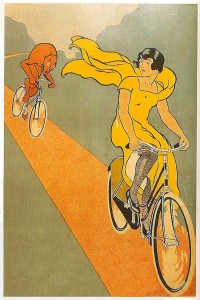 … with the added proviso that said story must be written in the style of one of these authors:
Elizabeth Bishop, Ray Bradbury, Joan Didion, Ernest Hemingway, or P. G. Wodehouse!
For some reason this seemed like a thing I could do (though I had not ever previously done so), so I did.
A Simple Mistake
in the style of P.G. Wodehouse
"Oh dear – I should have listened to Elsa this morning," sighed Lady Rosamund.
Her maid, being a fan of the Tour de France, had remonstrated with Rosamund about her choice of bright yellow attire for a morning ride:
"Please, mademoiselle! I do not mean to imply that your lovely outfit in any way resembles a bicycle racing jersey! But both the bystanders and the racers will be on the look-out for the previous day's stage leader wearing the coveted yellow top. If they glimpse your frock confusion may ensue."
"Nonsense, Elsa!" Rosamund had retorted. "How could anyone mistake a gentlewoman pedaling gracefully though the rolling French countryside on her 'lady cruiser' for a perspiring male sportsman on his racing machine? Don't be silly!"
"As you say, my lady… but I can't help feeling it's not wise," Elsa muttered as she retired to her chores.
Rosamund rode off with no further thought to Elsa's premonition – until after she passed through a sleepy village containing a rest stop for the Tour racers.
Making her way though a small crowd of race onlookers Rosamund continued pedaling out of the village, leaving them all behind she thought. But shortly thereafter she became cognizant of the sound of heavy panting.  Looking around, she observed an odd fellow toiling on a bicycle attempting to catch up. His dumpy demeanor would have been amusing if not for the horns sprouting from his head!
Rather than continue to be pursued further away from the village, Rosamund instantly decided to stop. Dismounting and placing her bicycle between herself and the oncoming – demon? – she awaited the confrontation.
Staring at Rosamund first in disbelief and then in triumph, the pudgy demon accelerated past her with a cry of "Je demander le maillot jaune!"